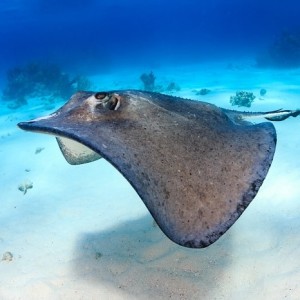 Heading to Gisborne? Want to step off the well beaten tourist track? Do something unforgettable, something you will be talking about for years to come, something a little different? Why not get up close and personal with the majestic stingray and other the natural inhabitants of Tatapouri Bay!
The friendly team at Dive Tatapouri provide interactive reef tours leading you on a journey of discovery and wonder as they guide waist-high-wader-wearing visitors out in the water to enjoy the chance to encounter Stingray, Yellowtail Kingfish, Trevally, Kahawai, Crayfish, Octopus, Conger Eels and any other obliging sea creatures who happen to be around on the day.
Dive Tatapouri operate their unique Reef Ecology Tour along with the opportunity to go snorkelling with the stingray and other East Coast activities from their waterfront location on Whangara Road State Highway 35 at Tatapouri Beach, just 10 minutes' drive north of Gisborne. It's the perfect place to soak up a bit of the local culture and enjoy the unique marine surroundings while getting to see these magnificent creatures in their natural environment.
The Dive Tatapouri Reef Ecology Tour
Simply a must-do for anyone visiting the Gisborne/East Coast region, the Reef Ecology Tour offers travellers of all ages the opportunity to get out in the water with wild stingray and other reef dwellers, viewing them in their natural habitat. There is also the added bonus of being able to hand feed the stingray making it a very unique experience even for the most seasoned traveller.
Reef Ecology Tours take place only at low tide and are obviously weather dependant. All participants are required to wear the provided waist high waders or gators and take part in a safety briefing before entering the water. While making their way along the reef participants are treated to insight into local Maori fishing traditions and some interesting facts about the rich history of the Gisborne region.

Quick Facts
Bookings are essential, prices range from $45 for adults to $20 for children over five and under 15 years of age.
Ecology Reef Tours take approximately two hours to complete.
Suitable waders are provided for all ages.
Tour times will depend on weather conditions and tidal movement.
Don't forget to bring your camera!
The Dive Tatapouri Snorkelling With Stingrays Adventure
Taking it up a notch, snorkelling with the wild stingrays really will be the highlight of your New Zealand travels. The Dive Tatapouri Snorkelling with Stingrays adventure enables travellers to see, touch and feed the beautiful stingrays as they glide amongst snorkelers in the shallow waters surrounding the reef. Look out for other marine life as you explore the tranquil underwater world of Tatapouri Bay, this amazing activity is available year round, weather permitting.
Quick Facts
Bookings are essential.
Snorkelling adventures cost $70 per person (the price is the same for adults and children aged 10-15).
No prior snorkelling experience is necessary.
Wetsuit, mask and snorkel hire is included in the cost.
Snorkelling with Stingrays is obviously a weather dependent activity.
For those wishing to extend the fun, Dive Tatapouri can also organise other ocean based activities including offshore spear fishing, on or offshore dive experiences and personalised fishing charters. There is also the opportunity to head inland to check out Gisborne's best kept secret – the Rere Rock Slide. A natural rock formation in the Wharekopae River, the Rere Rock Slide is great fun for all ages, but if you want to avoid too many bruises it is recommended you use boogie boards, inflatable mattresses or tyres when hurtling down the 60 something metre rock slide.
Accommodation In Gisborne
If intending to take part in a Reef Ecology Tour, Snorkelling With Stingrays or make use of Dive Tatapouri's fishing and dive charter services, Motel Oasis Gisborne is the perfect choice for comfortable nearby accommodation, especially when awaiting tidal changes.
Only a short eight minute drive along the coast, Motel Oasis Gisborne provides a variety of luxury accommodation options to suit every need. Every room comes standard with air conditioning and Sky TV, free unlimited WiFi is also supplied along with complementary use of bikes and scooters. Take the opportunity to warm up after enjoying your stingray adventure in one of Motel Oasis Gisborne's spa bath units or relax by the solar heated pool.
To make a booking or get in contact with Dive Tatapouri, phone 06 868 5153 or make contact through their Facebook page. Build life long memories in Gisborne with the Dive Tatapouri and Motel Oasis Gisborne today.